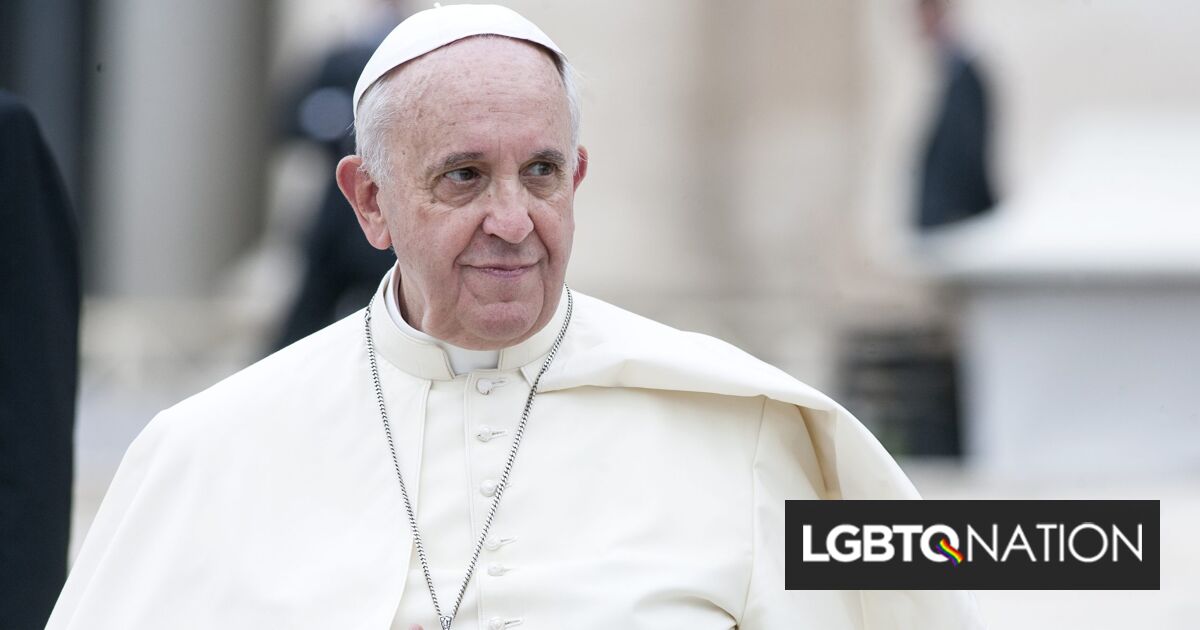 Vatican fears more Catholic priests exposed using Grindr / Nation LGBTQ data
Pope Francis greets pilgrims during his weekly general audience in St. Peter's Square in the Vatican on September 10, 2014.Photo: Shutterstock
Last month, a right-wing Catholic media outlet denounced a leader of the United States Conference of Catholic Bishops (USCCB), a Catholic organization made up of members of the Church hierarchy that opposes LGBTQ equality. The report claimed it was relying on data obtained from the leader's use of LGBTQ dating app Grindr to speak out against him.
Since then, the outlet has released even more reports. While they have yet to reveal anyone else in particular, in two reports they allege that they have again obtained data from online dating apps that allegedly imply that high-ranking Catholic officials are gay or have sex. Reports could come from other Catholic leaders here in the United States, but also from the highest ranks of the world Catholic Church, including the Vatican.
Related: The Exit Of A Hypocritical Priest Is Actually A Cause Of Alarm. Anyone could be next.
The pillar, a newsletter-based publication run by former journalists working for Catholic News Service, claimed in their explosive first report that Bishop Jeffrey Burrill likely had sex with men he met on the application for years based on the data they had obtained. Burrill resigned as secretary general the next day Pillar informed the USCCB of their report prior to publication.
In a later report, Pillar alleges that they have data which would indicate that someone was using mobile dating apps in parishes located in the Archdiocese of Newark from 2018 to 2020. They did not name anyone or what applications the alleged data came from. The archdiocese announced that they were investigating the matter.
Their upcoming and third report suggests they have information on people even closer to home for the Catholic Church – those on properties reserved for the Catholic Church in Vatican City.
"At least 16 mobile devices transmitted signals from the Grindr hookup app" and "another 16 devices showed the use of other location-based hookup or dating apps, both heterosexual and gay "from" in non-public areas of Vatican City State "in 2018, Pillar alleged.
The New York Times reports that the Catholic Church is now "on edge" on the growing claims and their implications. The Vatican had met Pillar "Representatives" in June, confirmed a spokesperson, but has not yet launched an investigation or formally commented Pillarthe conclusions of.
Just this week, a bishop from Brazil left the Catholic Church after video stream of him performing obscene sex act while another man was watching him leaked online. Tomé Ferreira de Silva has resigned after facing and surviving multiple allegations that he was sending sexual messages to a minor and had inappropriate relationships with men.
The USCCB is a Catholic organization, made up of members of the Church hierarchy, which actively opposes LGBTQ equality. He has opposed the development of an LGBTQ suicide hotline, tried to prevent same-sex couples from adopting children, has repeatedly criticized President Joe Biden for his support for LGBTQ rights, and has supported anti-trans legislation this year.
Burrill was "the most senior American cleric who is not a bishop," according to Pillar. He had worked for the USCCB since 2016 and was elected Secretary General in 2020.
The pillar was founded by Ed Condon and JD Flynn. They previously worked at the Catholic News Agency (CNA), a religious right-wing news source, before creating Pillar on Substack this year.
In the report that revealed Burrill, Pillar attempted to suggest a link between Burrill's sexual attraction to men and child sexual abuse, propagating hateful stereotypes that gay and bisexual men are rapists and child molesters. They even quoted a Catholic seminary professor who said that the use of Grindr is "just one step away from sexual predation" – which gave insight into the anti-LGBTQ agenda. Pillar continued with the information.
They maintained that they obtained the Grindr data legally, but did not share exactly what data was obtained, or how. The founders also declined several media inquiries for the information.
The Times notes that many bishops or officials at the places named in PillarSo far, reports of high-ranking Catholic leaders have been accused of misconduct or child abuse in the past, making it likely that Pillar aims at "an amalgamation of homosexuality and pedophilia" to use "to blame the crisis of sexual abuse in the church on the presence of homosexuals in the priesthood" within the Catholic Church.
Grindr, which is committed to keeping user data anonymous, has already opened an investigation and has so far maintained that it is a "safe space" for LGBTQ people. "We are keenly aware of the risks to our users," said Jeff Bonforte, CEO of Grindr. LGBTQ Nation weeks ago. "We not only have information on the risks of the industry, but we are also very aware of all the challenges facing the queer community around the world."
Grindr published a blog post who only considered three possible methods that led to The pillar obtain anonymous data and reverse engineer it to the priest. None of them involved a Grindr breach.
Bonforte also notes that in 2018, the Catholic News Agency (CNA) was offered data from ad networks for Grindr and Tinder while the site's founders, Condon and Flynn, were working on it. This data is similar to that which, according to Grindr, was probably used by Pillar.
CNA said before PillarThe first report of this data was offered by "a person concerned with reforming the Catholic clergy". The editor declined the offer and did not involve Condon and Flynn in the story, but also never discussed it with them.
Bonforte said LGBTQ Nation that it was clear to him that Pillar targeted Burill and only got data that confirms much of what they already knew. Other reports showing data about other people's use of Grindr may suggest otherwise.