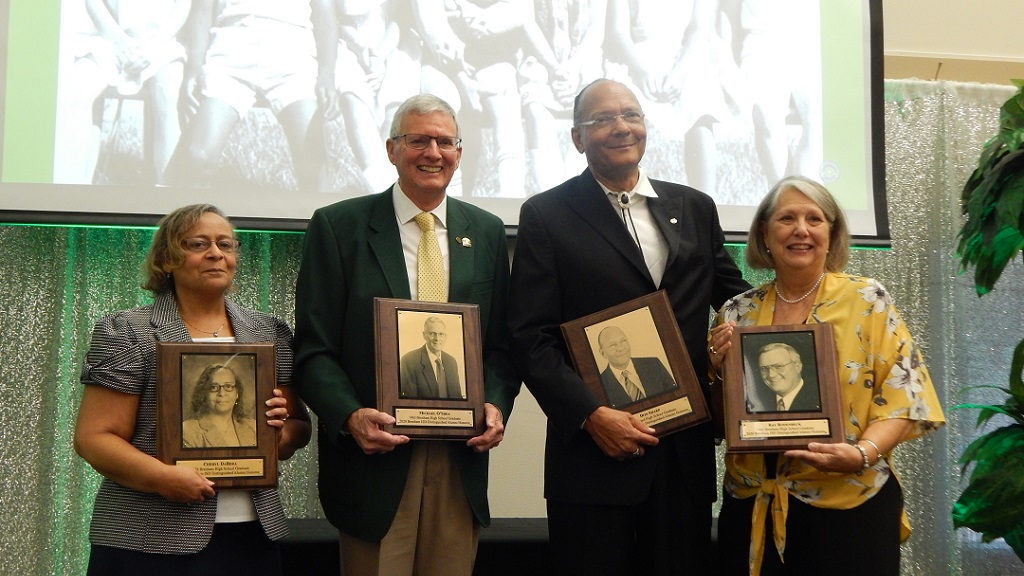 BRENHAM ISD CELEBRATES THE ALUMNI DISTINGUISHED
Brenham ISD supporters gathered today (Friday) to commemorate the 146e school district anniversary and honor four of its outstanding alumni.
Crowds filled the banquet hall at the Blinn College Student Center for a luncheon to celebrate the accomplishments of this year's distinguished alumni: Cheryl DaBera, a community leader and advocate for excellence in education; Michael O'Shea, who is nationally and internationally recognized in the field of athletic training; the late Ray Rodenbeck, business leader and proud member of the first Brenham Cub baseball team to advance to the state semifinals; and Don Sharp, who spent 50 years in the television news industry.
DaBera graduated from Brenham High School in 1978 and embodied a life of public service and educational excellence. She graduated from Sam Houston State University in 1982 with a major in special education, speech therapy, and audiology, with certifications in early childhood education and teaching the mentally handicapped. From 1982 to 1987, she was a teacher, speech therapist and chair of the ARD committee in Houston. She was the Unit Program Coordinator at Brenham State School from 1987 to 1989. In 2005, she completed her Masters with a Major in Educational Leadership. DaBera was the Elementary Principal and Federal Programs Monitor at Burton ISD from 2005 to 2013 and was the campus leader who worked with parents on the new school construction project. During her career, she has trained teachers and parents on topics such as "Teaching with Poverty in Mind" and "Total Transformation Training Interventions for Parents" and participated in decision making. on campus and district, effectiveness and compliance, early intervention programs and crisis intervention. For her efforts, she was recognized as an inductee into Who's Who Among American Teachers in 1996.
Active in her church and community, DaBera has been a member and president of numerous organizations, including Zeta Phi Beta Sorority and Sigma Chi Chi Professional Women's Club.
DaBera is a member of Delta Gamma Society International. She is currently the Youth Director, Chair of the Scholarship Committee and Secretary of the Board of Trustees of Mount Rose Baptist Missionary Church in Brenham. In addition, she is the current secretary of the Camptown Cemetery Association and has been recognized by the Texas Ten Historical Explorers, Inc.
DaBera challenged the public to be the best possible support system for all children.
DaBera currently lives in Chappell Hill, Texas. She is married to Raymond C. DaBera and is the mother of four children: Raymond Wright, Chenille DaBera Cage, Steven M. Kendricks and Fletcher DaBera. Through her exceptional dedication and guidance to hundreds of students throughout their academic journey, she has humbly magnified her own accomplishments.
O'Shea graduated from Brenham High School in 1963 and has become a nationally and internationally recognized giant in athletic training. He attended Blinn College, where he was a student athletic trainer. He later honed his athletic coaching skills by earning his bachelor's degree in 1968 from the University of Texas-Austin. During his time with the US Air Force (USAF Academy) from 1970 to 1973, he served as an assistant athletic trainer. He received his master's degree in health and physical education from Kent State University in Ohio. He then began as an assistant athletic coach and later head athletic coach with the Baltimore Colts of the NFL from 1973 to 1978. During this time he also worked with the AAU track teams as a coach. Between 1979 and 1993, he continued his education at the University of Miami and the University of Louisville as the head coach of football sports. In 1993, he returned to Texas to work with the University of Houston and became the head athletic trainer and director of sports medicine. O'Shea held this position at the University of Houston for 27 years, retiring in January 2020.
With a certification from the National Athletic Trainers Association as well as a Texas Athletic Trainer license, he has pursued a profession that requires a unique expertise that he has always been willing to share. The role of athletic trainer has given O'Shea the opportunity to teach and mentor and his accomplishments have earned him numerous honors and accolades. These include being named US Air Force Academy NCO of the Year in 1971, Sports Trainer of the Year in 1987, University of Houston Heart and Soul Award in 2006, Senate of Texas and House of Representatives Lifesaving Honor in 2013, University of Houston Chairs Award recipient in 2017, National Athletic Trainers Association Hall of Fame in 2017 and Brenham High School Football Hall of Honor in 2018. Additionally, O'Shea published the book The History and Development of the National Athletic Trainers Association in 1981.
O'Shea said his trip had taken him all over the world, but that he will always call Brenham home.
After 45 years of marriage, O'Shea's first wife, Annette, passed away in 2017. He married Suzanne Blankenship in early 2020 and they currently reside in Sugar Land, Texas. O'Shea's son and daughter-in-law, Chad and his wife Melissa, have 3 children. Her daughter, Julie, is married to Toby Holmes and they have two children.
Rodenbeck (deceased) graduated from Brenham High School in 1966, a proud member of the first Brenham Cub baseball team to make it to the State Baseball semifinals. He received his Bachelor of Business Administration from Sam Houston State University in 1970 and worked for Sealy Mattress Co, Inc. for 46 years before his death. He was named Sealy's Regional Vice President, National Plant Manager of the Year and was listed in Who's Who Among American Managers. His leadership capacity extended beyond his business in his community and throughout his life he was committed to giving back to others, especially young people.
Rodenbeck was a member and / or leader of the Brenham Jaycees, Exchange Club and Elks organizations. He has also served on the Board of Trustees of Blinn College, the Advisory Board of Prime Bank, the Washington County Economic Development Board, and the Industrial Foundation. He coached baseball and softball for 26 years, including Little League and the Boys and Girls All-Stars, and served as president of the Little League Association for many years and then played a pivotal role in shaping the Brenham Cub and Cubette Alumni associations. He was a partner in promoting the breeding and management of quail in Texas. Among his many other contributions, he employed the clients of Brenham State School to help them promote their confidence and independence.
Ray Rodenbeck's wife Theresa Rodenbeck accepted the award on his behalf and said that although his career has won him many accolades, he would consider it one of the greatest.
Throughout his life, Ray Rodenbeck has been very dedicated to his faith, his family, his profession and his community. His church affiliation was Zion Lutheran Church in Brenham, where he served as a choir member, Sunday school teacher, and president of the congregation. His family includes his wife, his father Walter Rodenbeck, and his son, Ryan Rodenbeck and his wife, Ann; and her daughter Rachel Rodenbeck Parker. He was also the proud grandfather of four grandchildren. A community leader who has done so much for so many, Rodenbeck's passing left a legacy of commitment, success and service.
Sharp graduated from Pickard High School in 1964 and left on a train to San Diego, California, right after graduating from high school. Yet he always remembered his roots in Brenham, returning home often to spend time with family and friends and share his adventures after 50 years in the TV news industry. He attended San Diego College, majoring in industrial arts, then the University of San Diego, majoring in general education. Other certifications include the 1st, 2nd and 3rd FCC licenses from the Powell School of Electronics, a Microwave Training Institute certificate in satellite uplink design, and an FAA drone pilot license.
In San Diego, Sharp worked with KGTV as a press photographer and editor. In 1979 he oversaw the first live news feed by helicopter in San Francisco and in 1984 he designed, developed and installed the only live cameras on the Golden Gate / San Mateo / San Francisco bridges. Among many awards and accomplishments, he was inducted into the National Academy of Television Arts and Sciences (NATAS) in 2005. He received six Emmy Awards from NATAS and has been featured in the book Live, Local, Broken News . He is co-author of the book Microwave Basic Principles and in 2009 was inducted into the Associated Press Television and Radio Association Hall of Fame. In 2015, Sharp coordinated coverage of "Super Bowl 50" in San Francisco and served as the FCC's frequency coordinator for San Francisco. Recently, Sharp was inducted into NATAS again, and this time he received the Gold Circle in recognition of 50 years in television.
Sharp praised Brenham's school system for providing him with what he needed to be successful and said he was very grateful for this recognition.
Sharp faithfully served the Post Oak Baptist Church and remembers his "home church" where he has fond memories. He currently lives in Sausalito, California with his wife, Debra (Chambers) Sharp, and is the father of two adult daughters, Shelly and Sherice Sharp. He has three granddaughters and a grandson. He retired in 2018 and continues to serve as a speaker at local community youth events, where his stories and enthusiasm are an inspiration to many.