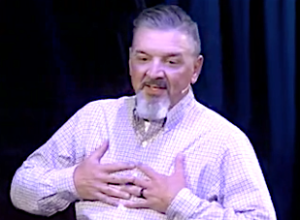 Mount Bethel pastor compares church saga to civil rights movement
The day after the Mount Bethel United Methodist Church lawsuit by the denomination's North Georgia Conference, Rev.Jody Ray sent a letter to church members in East Cobb, accusing the Bishop Sue Haupert-Johnson of "A Power Play".
The trial, filed wednesday, researches the ownership and assets of Mt. Bethel, as the denomination has claimed to be its right under the document governing the UMC Disciplinary Book.
Ray resigned from his UMC ministerial credentials this spring after being reassigned from Mount Bethel by Haupert-Johnson, sparking a fierce public controversy that landed in court after an unsuccessful attempt at mediation.
"So here we are today, mired in what many would characterize as a dispute over 'dates and ownership'," Ray wrote in the letter, a copy of which was obtained by Cobb East News (see below; we are trying to get a higher quality version).
He then wrote the following:
"Well it is! But it's for more than that. To describe our current challenges in that way would be to say that Rosa Parks and the Montgomery Bus Boycott was about where African Americans could get away from it all. sit on the bus. Well, it was, but it was about so much more! "
He then explained how this event, in 1955, at the start of the modern civil rights movement, "changed the course of our nation's history." Ray continued:
" Mount. Bethel, our conflict may focus on "dating and ownership", but it's about more than that! It is about fighting for our faith.
Referring to Mount Bethel, he wrote towards the end of his letter that "our standing today – united in Christ – as proclaimed in the scriptures will not only have an impact today, but will also impact generations. Christians in this community and in the world in the future. "
You can read the whole trial by clicking here; The case has been referred to Cobb Superior Court Judge Mary Staley, but no initial hearing has been scheduled.
Some prominent Marietta legal teams have been hired from both sides. The North Georgia Conference hired Cauthorn Nohr & Owen, led by former Cobb Superior Court Judge Thomas Cauthorn.
Mt. Bethel has retained the law firm Moore, Ingram Johnson & Steele.
On Monday, Keith Boyette, the head of the Wesleyan Covenant Association, filed an application in Cobb Superior Court for pro hac vice admission. This is when an unauthorized lawyer in a particular state asks for admission to a special instance.
The WCA is a consortium of conservative UMC congregations that have been planning disaffiliation in recent years over theological disputes, heavily centered on the gay and lesbian clergy and same-sex marriages.
Mt. Bethel has been a distinguished member of the WCA and has hosted its annual conference. The church's public comment released after the complaint was filed urged a vote for disaffiliation. The national UMC is to consider approving a protocol for this process in September 2022.
In his Cobb court file, Boyette noted that he is a qualified attorney licensed to practice in Virginia and has been retained by Mt. Bethel.
Related stories
Receive our free newsletter by email!
Each Sunday, we collect the top headlines for the week and preview the week ahead in the East Cobb News Digest. Click here to register, and you're good to go!
Related