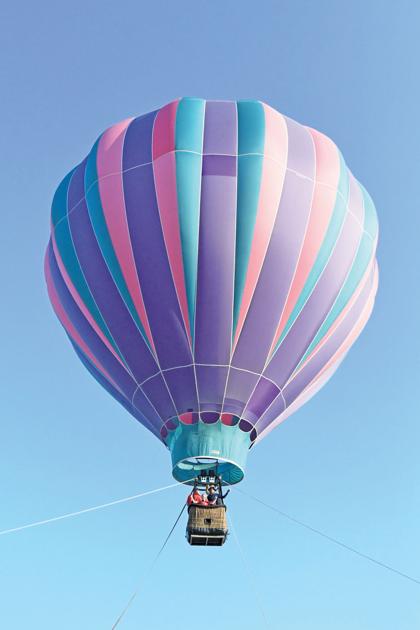 Branson Bank Gives Associates Tricks in the Sky | News Free
A small group of Branson Bank employees had the opportunity to take their day to new heights by participating in captive balloon rides on Tuesday, September 14.
During that year, Branson Bank offered associates a handful of mini-retreats for fun outside of the office atmosphere. As part of Tuesday's retreat, the associates were ordered to meet at 7 a.m. outside Branson Bank's newest location on Gretna Road, where they have been surprised by hot air balloon flights since Branson Balloons.
"This year has not been an easy year for anyone. Here at Branson Bank, we try to take care of our associates, our clients and our shareholders, "said Trisha Turner, COO of Branson Bank. "It's sort of a dual purpose in that something fun for our associates and happy associates equates to happy customers. It's just a little getaway.
For these retreats, Branson Bank teams up with a member of management with about six associates to do something fun and unexpected.
"It was actually an initiative that started with the chairman of our board and supported by our chairman Bill Jones. Like any other vision it has, we are executing it as a leadership, "Turner said. "Just a few hours, just an escape from work, an escape from the real world and just having fun with each other and it bonding. It's just part of our culture and that's what makes it a place to be. it is good to work.
Jamie Hunt, director of human resources compensation for Branson Bank and PAs, said the retirements give them the opportunity to show their appreciation to associates who go above and beyond for the bank.
"We really just want to pour into our associates. We just want to give back to them because they give so much to our business. It's just a fun way for everyone to reconnect as we have (five) different locations and just bring everyone who isn't normally together, "Hunt said. "We are a bank, but our greatest asset is really our associates and they are the ones who run the day-to-day operations and we want to make sure that they are not just our associates but that they are our family at the bottom. end of the day. "
Hunt explained what it meant for her, as a Branson Bank executive, to see everyone come together for early morning fun.
"I love it. I've been in the bank for 13 years. You can, wherever you are, focus on the day-to-day," Hunt said. "But to relax and see everyone laughing and almost a childish way and just enjoying life The simple moments, the little things It's good It's good to fill your cup that way.
For the Branson Hot Air Balloon Rides, the associates were divided into pairs to experience the ascent into the sky together. Branson Bank Compliance Officer Rebecca Mullen and Mortgage Officer Christi Abker teamed up on their journey to the clouds and shared their experiences once back on the ground.
"It was just a beautiful morning to see the sun… the beauty of Taney County and the land. What God created and gave us in which we can live and enjoy, "said Abker. "It was just nice to go up and see it from a bird's eye view of what it looks like. It just gives you a different perspective.
"Truly amazing and a wonderful way to see the beauty of God," said Mullen. "I think it's a wonderful way to release stress. Instead of worrying about doing our job, we can just have fun. "
Abker added that she greatly appreciates Branson Bank for providing such opportunities to her and her fellow associates.
"I think this is a great opportunity that Branson Bank has given employees to get us out of the office a bit to take advantage of relationships and others and show their appreciation for us," said Abker. "We can have a little fun with each other and just visit and build those relationships outside of the office."
So far this year, Branson Bank has offered its employee retirement groups a handful of different activities, including a limo ride and bowling at Branson Landing; ax throwing and miniature golf in Branson; and a Bigfoot expedition via Bigfoot Fun Park.
"We try to keep them very different and… they never know what they're going to do, but today that definitely took that to a whole new level," Turner said. "We keep them all local. It's something at Branson Bank, I mean we're the community bank, and we're reinvesting in our community.
Visit bransonballoon.com or bransonbank.com for more information.