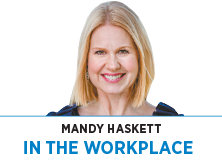 In the workplace: 4 ways to integrate a human resources strategy into your business strategy
How to sum up the last two quarters of 2021 at work? I could pick one statistic: 11.5 million American workers quit their jobs in the second quarter. And polls show we're just getting started: 48% of the workforce is currently looking for a new opportunity.
Indeed, "the great resignation", a term coined in 2019 by Anthony Klotz of Texas A&M, is there. And it is very real. This Gallup dubbed 'big dissatisfaction' is rightly affecting the way executives prioritize their planning as the 2022 strategic season approaches.
In fact, our team observes that "human resources strategy" is emerging as the # 1 item on the executive planning retreat agendas across industry and geography.
It was just 12 months after industry alarmists warned, "No one leaves a ship during a hurricane. Phrases like this implored leaders to proactively strengthen retention and engagement strategies for the inevitable exodus we would see in 2021, when pre-post-pandemic floodwaters were expected to recede. These projections were unfortunately correct.
Perhaps more than ever, it is quite evident that people are what make the distance between the strategy and the results it produces.
Interestingly, 67% of all strategies fail (most in March). So what is wrong? And how can we better plan?
First, let's consider that the most basic strategies answer these three questions: what do I want? Why do I want it? And how will I get it, given the data and information I have?
While it is common for strategies to include predictive metrics in the market, financial data, consumer psychography, and competitors, it is rare to find predictive data in a strategy that includes information about humans that will do the trick. work.
Yet ironically, when executives speculate anecdotally about why their strategy is failing, we hear these attributable woes: poor communication of strategy or goals on the part of managers; failure to answer "What's in it for me?" »For team members; lack of buy-in; confusion over how to determine who is in the right roles; and friction within the leadership team itself that breaks alignment before the plan can even get started.
Despite 2020, the strategy derailleurs are generally not external. Most often, they come from inside the house. The above driving failures are not operational issues, marketing issues, or financial issues, they are people issues. People operationalize; people change market objectives; people manage finances. And people don't do anything if they feel invisible, inaudible, and under-engaged except leave.
Alternatively, when leaders put people at the center of their strategy from the start, the chances of success multiply! Especially if there are external forces at play.
So, to tackle the most common people issues that derail your good strategy, consider these four improvements:
1. Build mutual understanding and trust at the leadership level first and foremost. Ironically, the soft skills required to enrich high-engagement work cultures are the most difficult to develop. Use a team assessment and workshop (for example, five dysfunctions of a team) to reduce emotions, create understanding, and anticipate how other leaders will present themselves at the strategy table. Invest in developing the skills of leaders related to their relationship with others, skills such as empathy, change management, conflict resolution, stress tolerance and impulse control.
These are not soft skills, these are leadership skills. Reducing friction and frustration among leaders promotes progress and adaptability.
2. Collect predictive data about people to see if the "how" will work. Scientifically valid instruments like the Predictor Index can provide increased visibility into whether a person is likely to perform well in a particular job, play nicely with a particular person, and embrace a particular goal.
This type of data will speed up your progress, saving you valuable time and money otherwise wasted on "guessing".
3. Review player positions. Data on people linked to employment also allows managers to objectively play on the strengths of individuals. Forcing an experimental, risky growth strategy on a human who is wired to be methodical, stabilizing, and process-oriented won't work for long. Think: convert Carson Wentz to a wide receiver.
Much like the Colts, you will need more than your intuition to see who is aligned with what elements of your new strategy and to position yourself accordingly.
4. Improve your communication through more meaningful interaction. While most leaders believe they have communicated key goals, only an average of 2% of team members report being able to recite the top three. Avoid a one-time information dump by training managers to incorporate organizational goals into each face-to-face.
Everything is changing. You are also at a crossroads. And right around the corner, it's strategy season. Take this rare opportunity to press pause, zoom out, and draw a clear map for your organization. Start at the intersection of people and strategy. •
__________
Haskett is a leadership consultant at Advisa, a Carmel-based leadership consultancy.