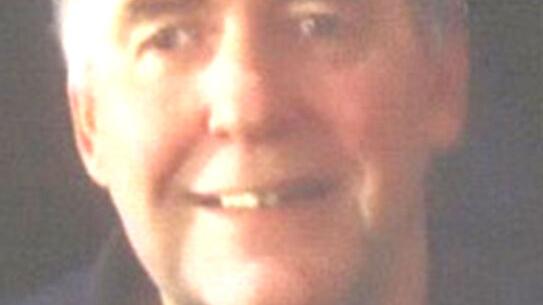 Tommy Russell Stewart | Obituary
1949-2021
Tommy Russell Stewart, 72, of Carroll, Iowa, passed away suddenly on Friday, October 8, 2021 at St. Anthony Regional Hospital in Carroll.
The funeral will be at 10:30 a.m. on Saturday, October 23 at Zion Lutheran Church in Auburn with interment in Oaklawn Cemetery, Auburn. Visitations will be from 5 p.m. to 7 p.m. Friday at Zion Lutheran Church in Auburn.
Lamp & Powers Funeral Home in Lake City is helping the family.
Tommy "Tom" was born April 13, 1949 at McCrary Rost Hospital in Lake City, Iowa, to Willard and Maxine Stewart. Tom graduated from Lake View-Auburn High School in 1967.
In February 1969, Tom was seriously injured in a car accident that left him paralyzed as a quadriplegic. Tom didn't let that stop him from making his dreams come true. After the accident, Tom vigorously re-educated himself so that he could regain the best possible health, which earned him the affectionate title of "The Toughest SOB on the Planet" from his son.
After his rehab, Tom continued his education at Iowa Central Community College and then in Mankato State, where he earned a degree in Sports and Recreation Management. Tom earned this degree and made a career of working as a recreation manager for New Hope Village for 15 years, before opening his own business for several years. Tom ended his professional career with American Home Shield.
In 1978, Tom met and married Joleen "Jodie" Duncan. The two were married for 20 years and together had a child, Shawn. During this time, Tom has been active in the community, being a member of the local Lions club, serving as club president for a few years, as well as volunteering and attending functions to promote and empower New Hope and the people. that they serve. .
Tom was passionate about sports. He cheered on most of the local sports teams, but his heart always bled red and gold, whether it was from the Iowa State hurricanes or his beloved Kansas City Chiefs. During the fall weekends it wasn't hard to find Tom, as he would watch either the Cyclones on Saturday or the Chiefs on Sunday, as well as any NASCAR races that can be found on TV. Tom was also a huge fan of the "M * A * S * H" TV show, of which he watched daily reruns, annoying his son endlessly.
Tom has faced his fair share of medical issues, but he always found a way to bounce back and be ready for the next challenge. He had a way of dealing with his problems with humor. Tom was always quick with a joke and lived by the motto "If they can't take a joke, that's their problem." Tom had a quick wit and the charm to go with it, and he leaves behind many saddened friends today. Although Tom could irritate you endlessly, people couldn't help but love him.
In recent years, Tom could be found roaming the city in his motorized chair with his beloved dog, Shea. These two were inseparable and shared a strong bond, until Tom had to move into an assisted living facility, where he spent his last years.
Tom is survived by his son: Shawn Stewart, Carroll; grandchildren: Trystan Kane, Kyra Kane and Ashlyn Stewart, Carroll; Brother Larry (Corrine) Stewart, Auburn; sister-in-law: Judy Stewart, Texarkana, Arkansas; as well as many nephews, nieces, aunts, uncles, cousins, and many extended family members and friends.
He was predeceased by his parents: Willard and Maxine Stewart; Brother Michael Stewart; and grandparents: Sam and Mabel Stewart and Clarence and Myrtle Pierce.