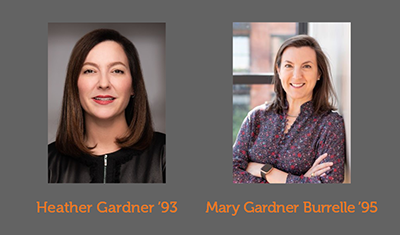 Endowment fund for women's leadership created by Hendrix Alumnae
Donation from Sisters Heather Gardner '93 and Mary Gardner Burrelle '95 will encourage and support leadership development, networking and community building among current students
CONWAY, Ark. (January 12, 2022) – A new Women's Leadership Endowment (WLE) has been created to provide resources to bring together Hendrix College students and Hendrix College alumni to create a network that offers leadership development programs, career counseling, mentoring, and internships.
The WLE will create a supportive community by connecting individuals through personal and professional networks to tackle the challenges that women often face in their professional and personal trajectories. WLE will leverage the Hendrix offices of career services and alumni and constituency engagement to bring the women of Hendrix together to meet such challenges.
"We are thrilled to help cultivate a community of Hendrix women to support each other in their lives and careers," said Heather Gardner '93, who works as Financial Institutions Relations Manager with William Blair Investment Management and has over 25 years of experience. as an investment professional in the financial services industry. "Many of us know the inherent value of staying in touch with other Hendrix alumni, and WLE will seek to leverage that connection for shared success."
Gardner and her sister, Mary Gardner Burrelle '95, created the WLE as a way to support leadership development for all women in the Hendrix College community, now and in the future.
"We want to support and encourage the women of Hendrix to embrace leadership as a valuable part of their professional and personal journey," said Gardner Burrelle, who works for McDonald's Corporation as head of global legal operations and chief of staff. "We are delighted to have flexibility built into the WLE so that it can meet the professional needs of women for years and decades to come. "
Hendrix will form a steering committee for the WLE led by a female faculty champion Hendrix; Dr. Leslie Templeton '91, professor of psychology and associate president for faculty development, has agreed to serve the inaugural three-year term. The committee will include a representative from Career Services, one of the Alumni and Constituent Engagement, a Hendrix alumnus engaged with the WLE and a student leader in her first year of study. The committee will promote alumni engagement and develop student programs.
The first use of WLE funding was to fund a women-focused session as part of Career Term, the annual career-focused workshop open to all students just before the spring semester of their second year. This inaugural event took place today: A Roundtable on the Nature of Women's Leadership, moderated by Hendrix Director of Career Services Leigh Lassiter-Counts '01 and featuring Gardner and Gardner Burrelle as panelists, as well as Jennifer Martin Gadberry '95, vice president of asset management for the Heifer Foundation.
"WLE will provide a wonderful opportunity for Hendrix alumni to benefit from mentorship and career guidance," said Ginny McMurray, associate vice president for college development. "We are very grateful for the support provided through the WLE. "
About Hendrix College
Private College of Liberal Arts in Conway, Arkansas, Hendrix College is regularly recognized as one of the nation's premier liberal arts institutions and is featured in Colleges That Change Lives: 40 Schools That Will Change Your Perception of Colleges. Its academic quality and rigor, its innovation and its value have made Hendrix a reference in numerous guides, lists and university rankings. Founded in 1876, Hendrix has been affiliated with The United Methodist Church since 1884. For more information, visit www.hendrix.edu.