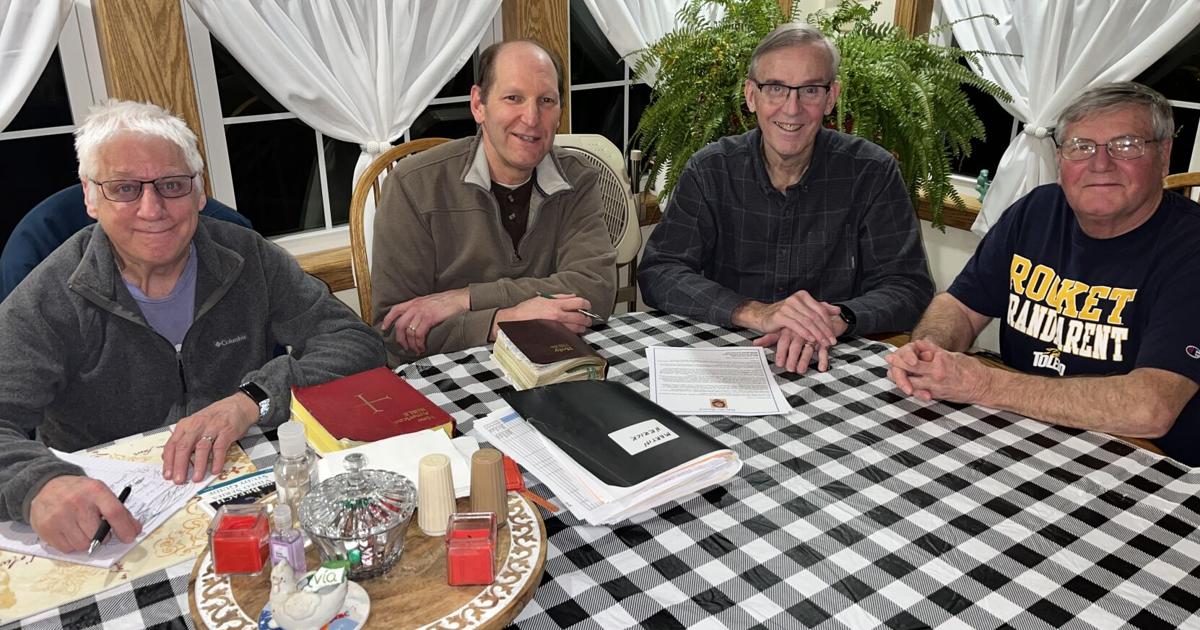 Renewal of the Heart to host men's retreats | local religion
Two one-day retreats for men will be presented by Renewal of The Heart, in conjunction with Knights of Columbus Council 1039 in Defiance, in February and March.
The one-day retreats are based on the book "Into the Breach, An Apostolic Exhortation to Men", which tells men that they are made for greatness, challenges them to achieve it by basing their lives on God and pursuing heroic virtue.
The retreats will be held February 26 and March 12 from 8 a.m. to 5:30 p.m. at the Postema Business Center, 2014 Baltimore Street in Defiance. Each retreat includes: continental breakfast, lunch, food and fellowship at the end of each session.
The cost of $25 covers both sessions (anything anyone can afford will also be accepted). Topics on February 26 will include: Masculinity/Brotherhood/Leadership, and will feature Proverbs 27:17, "As iron sharpens iron, so one man shall sharpen another.
Topics covered on March 12 will include: fatherhood and family/spiritual warfare and life/prayer, and will introduce Romans 12:12, "Rejoice in hope, endure affliction, persevere in prayer" .
"I got a call from Mike Boff (of the Knights of Columbus) asking if we would be interested in doing a retreat with the material from 'Into the Breach'," said George Westrick of the Renewal of The Heart team. "We thought that was a great idea, and we thought we could reach out to a bigger group of men to do this.
"We will use excerpts from the 'Into the Breach' videos, which we believe will touch on the topics we will be discussing at each retreat," Westrick continued. "We thought, instead of doing an entire weekend, let's do this as two one-day events, two weeks apart, especially in this era of COVID."
The flyer for the pair of one-day events explains, "We live in a time of crisis for religious, denominational and family life which must be met by men with a sincere embrace of masculine virtue.
A letter sent to potential participants states, "We know you will grow closer to Christ during these special days. This is a great opportunity to spend a faith-filled time with Christian men, giving you the chance to make a difference.
Additionally, the letter states, "We encourage you to invite other significant men in your life to share in this spirit-filled and enlightening retreat event.
Len Coleman of Renewal of The Heart said, "It's a little different style than what we've done in the past, it's great to partner with the Knights of Columbus, they have a different network of guys in which they can tap, which is great. . We try to keep it fresh to capture people's interest.
Mike Weaver of the team added: "The last event we hosted was in March 2020, just before it all shut down, so it's great to be getting back together and doing retreats again. These "Into the Breach" retreats aim to equip men to uphold moral beliefs in a time when we live in a scary world.
Martin Nezick, member of the Renewal of The Heart team, explained what will happen during the retreats.
"We will talk about the themes of these days, share video clips of the themes, have witnesses, discussion tables, time for reflection and time for fellowship," Nezick said. "We will use this time to reflect on what we are presenting and what it means for each of us in our own lives.
"We will come together as a group of men, recognizing that we are all brothers in Christ," Nezick added. "It's about moving forward together."
Says Westrick: "It's important to know that the retreats are ecumenical, not about pushing theology or way of life. It is about accepting people where they are, sharing with each other and coming together as brothers in Christ. We look forward to men of all ages coming together for the retreats.
For more information, or to RSVP for retreats, contact Westrick at 419-784-3975; Nezick at 419-782-3418; or Boff at 419-782-2405.