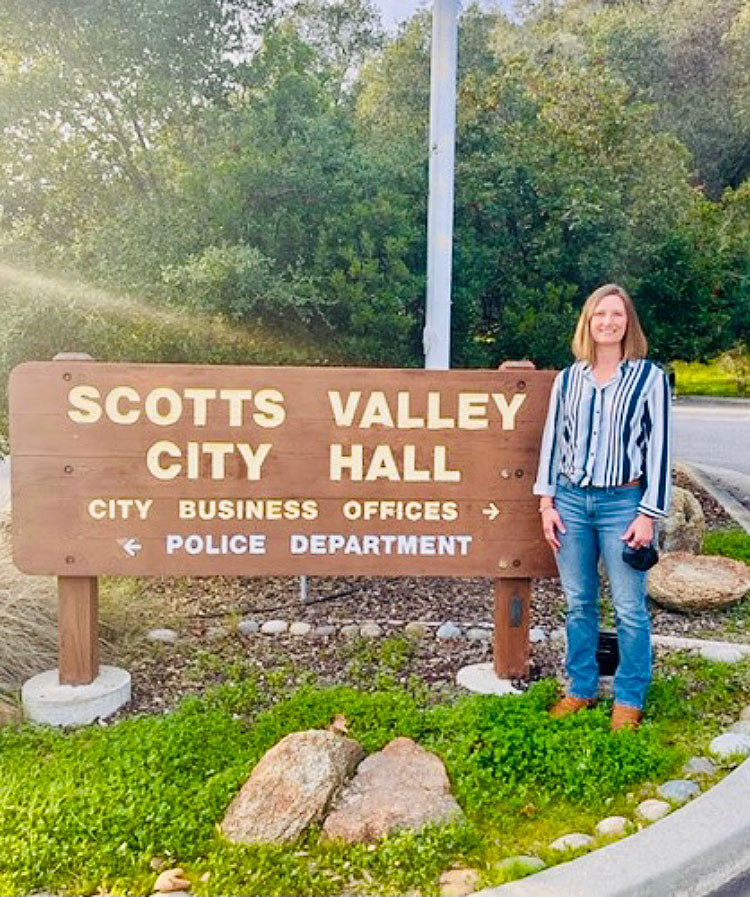 Scotts Valley Welcomes New City Manager—Times Publishing Group, Inc.
By Donna Lind, Mayor, Scotts Valley
As Scotts Valley enters 2022, there is plenty of encouragement for a bright future. New Scotts Valley City Manager Mali LaGoe took the helm Jan. 10. She is described by the Nevada County CEO as incredibly intelligent and having led with great integrity various roles in Nevada County where she served for over 9 years, rising to Deputy CEO. Scotts Valley has many similarities to Nevada County and faces many of the same issues, including economic recovery and wildfire protection.
We are thrilled and honored to have Mali LaGoe join the Town of Scotts Valley. She completes a strong all-female leadership team for 2022. City Attorney Kirsten Powell has served the city since 2004 and brings an unparalleled level of knowledge, experience and dedication.
City Manager LaGoe started running after practically attending various community meetings before arriving and chatting with staff. She quickly identified key issues for Scotts Valley and began tackling issues such as Scotts Valley after-school programs and parks and recreation programs that were closed due to the pandemic. Mali also visited the Scotts Valley Library which is undergoing renovations. We look forward to the reopening of our state-of-the-art library in the near future.
The Scotts Valley Police Department had struggled with losing many officers to agencies offering large signing bonuses and higher salaries. Due to community support for the recent sales tax action, Scotts Valley has successfully recruited several officers and is nearing full staff. With staff replaced, the Department was able to return a School Resource Officer to Scotts Valley High and continue the DARE program. Continuing the trend of strong female leadership, two of the Department's five sergeants are women.
With many small businesses struggling or closed during the pandemic, Penny Ice Creamery has opened at The Hangar, the new commercial building on Mt. Hermon Road behind the drive-thru Starbucks. The Home Store by Zinnia's opened its doors on January 22 and welcomed many satisfied buyers. This business is the first of its kind in Scotts Valley, offering beautiful, unique furniture and homewares. The Faultline Brasserie will open soon and will feature live entertainment, fire pit conversation areas and an activity patio. Faultline Brewery plans to offer a fine dining experience with an emphasis on craft beers and food.
1440 Multiversity is open with appropriate security protocols in place. It is set in the tranquility of the Scotts Valley redwoods with breathtaking views. 1440 has been rated by CNN as one of the top 11 wellness retreats in the world and is located in Scotts Valley!
Giving back to the community is a core value for 1440 Multiversity. An example of their advocacy is the Healing Our Healthcare Heroes program launched in the spring of 2021. Born out of a debt of gratitude to frontline medical workers who continue to serve our communities. This program allows them to begin the road to recovery to cope with the stress and anxiety of daily work that they endure during the pandemic. Over 1,100 healthcare heroes have benefited from the program, with more to follow in 2022. It cost participants nothing thanks to the generosity of donors, sponsors and the 1440 Foundation. Given the success of Healing Our Healthcare Heroes, 1440 will introduce Healing Our Education Communities this spring. This program is designed to bring the same healing and focus to educators.
We're also looking forward to welcoming Target to the former K-Mart store, which is slated to open this summer. Community giving has also been part of Target's heritage since the stores opened in 1962. Target donates 5% of its profits to the community. Scotts Valley Square is getting a major update and beautification of the entire mall.
The City has made dramatic progress on economic recovery in close collaboration with the Chamber of Commerce. Scotts Valley supports local businesses with a small business rent and mortgage subsidy program. The $250,000 received through the Community Development Block Grant (CDBG) Cares Act to provide economic relief to Scotts Valley businesses that have been negatively impacted by the pandemic. The City's goal is to help businesses retain their employees and provide funding to businesses that need it most to keep their doors open.
We are very grateful to the City for being able to partner with the Scotts Valley Chamber of Commerce to support local businesses. However, this is due to strong community support which has helped most of our local businesses weather the pandemic. Their fight is far from over and it is important that we continue to buy local and continue this essential support!
•••
Donna Lind is the mayor of Scotts Valley. Join her at [email protected] or call 831-438-4187.
(Visited 1 time, 1 visits today)