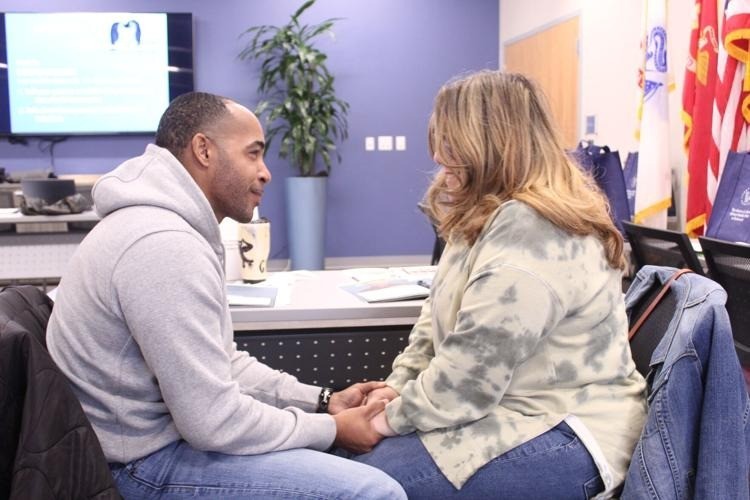 Workshop helps Fort Hood couples strengthen their relationship just in time for Valentine's Day | Item
KILLEEN, Texas— Several Fort Hood couples spent their Valentine's Day weekend taking time to strengthen their marriage through Marriage Management, a workshop designed specifically for veteran and military couples held at the Steven A. Cohen Military Family Clinic here, Feb. 12.
"Barbara always says that every relationship has challenges and it's not those issues that make a bad marriage, it's how you deal with them," Bob Zielinski said of his wife and fellow instructor. workshop.
The workshop helps couples identify the types of things that trigger them and introduces skills couples can use to improve their communication.
"It just opens up the conversation to increase our knowledge of each other and also the things we can do to improve our marriage," Mary Caloca, wife of Army veteran Gio Caloca, said of the biggest thing we have. she learned. "I think a lot of communication happens after things have bothered us and it's about taking time to talk about things that might get out of hand later on."
Bob and Barbara have run workshops like this for more than 45 years, just two years after the former military couple first married.
"When Bob joined the military, there were no resources available," Barbara said. "We were a struggling young newly married couple and there was nowhere to go."
The couple began attending marriage workshops through their church and felt called to help other military couples in the best way they knew how – to understand the feelings of the other.
"I like that it's very honest. It's just between your relationship and not everyone," commented Lisa Wright, wife of Sgt. 1st Class Jimmy Wright. "It's good to just focus on your relationship and not have to focus on other people."
Jimmy said he thought the most helpful tool they were introduced to was the Relationship Attachment Model, a magnetic board designed to show their loved one how they feel every day. If, for example, a relationship member had a bad day at work, they may not want to be touched, which is one of the topics presented in the relational attachment model.
Barbara said that while all marriages have their problems, they found there were additional issues inherent in the military that needed to be addressed. Through the workshop, they help military couples learn various tools to improve communication or ensure communication is healthy.
"We can't eliminate the stress in their lives, but we can empower them to deal with it and deal with it," she said.
"We hope they come away with some of these tools – the physical tools, the mental tools, the emotional tools – and take that to heart and say, 'When I'm triggered, I'm going to handle it in a different way now, "," Bob added.
Because of their passion for helping military couples, they feel it's important that the workshops are free for military and veterans. They received a Veterans Aid Fund grant from the Texas Veterans Commission and also partnered with United Way.