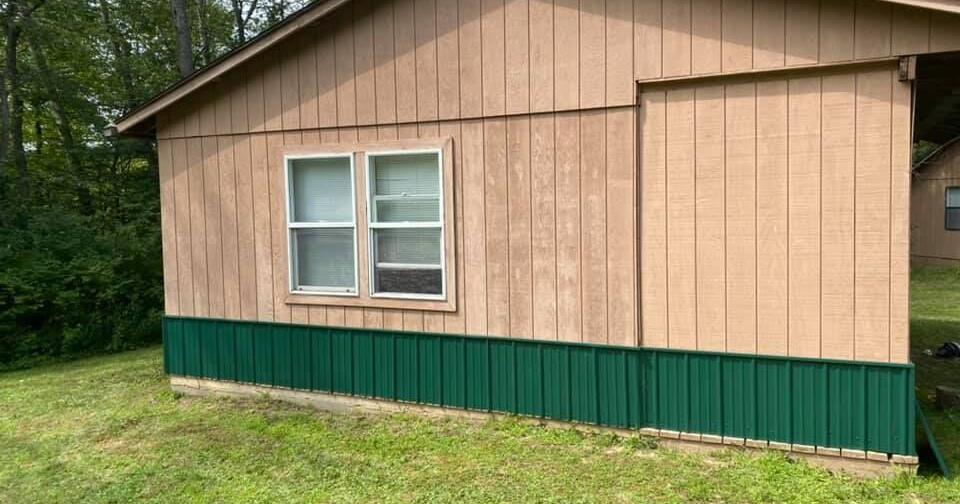 The Camp Penuel East gets a makeover | New
For the past few months, rumors have been circulating about Camp Penuel East regarding whether or not the Eldred Campground and Retreat will be sold and its ownership changed. The truth is there has been no sale and it is not under new ownership. Pastor Scott Waterman confirmed, "no it hasn't been sold, just under new management – ​​us!" The "we" includes his wife, Michelle.
According to Waterman, the couple took over in April 2021 and did a complete overhaul of the property. "We're starting over," he said.
So far in their first year as directors, the Watermans have received several donations of time, money and services for numerous projects and have transformed the camp from something that was falling apart into something almost unrecognizable.
"The road into the camp, when we got here, was washed out and there were ruts. It was a tough race," Waterman noted. "But, someone graciously regraded and added new stones for our route, which made getting to camp much easier for everyone."
He added that in the past the camp had been used in the spring and fall by area businesses to hold retreats, but the access was such that no one wanted to come anymore. Funding for the free summer camps at Camp Penuel comes in part from these retreats. "We would really like the region to come back to us. The improvements we've made are amazing," he said.
The improvements don't stop at the road. The cabins have also been renovated. Waterman said: 'All drywall has been removed and replaced inside all cabins. They have all been repainted. And, for years, there has been a problem with porcupines chewing on walls, so now we've started adding tin to the bottom of buildings. He said they tried tin first and it was successful in keeping the critters out and they would install it around all the buildings as they could. The cabins are the priority right now, and since they have the time, materials, and money, they will continue to do the rest of the buildings on the property.
Another donation received by Camp Penuel Est — a swimming pool — was donated by a member of the community. Although the pool isn't brand new, the manager said it doesn't need to be, "it's new to us and our kids love it."
The camp has added a new activity area, something new for the kids at camp to learn to play. Waterman explained that the camp now has a Gaga Ball stand, "gaga ball is an Israeli handball game, a combination of kickball and dodgeball. It's much safer than dodgeball.
And all of that was done in the first year the Watermans took over the camp.
"We were fortunate to take care of this facility and grounds. We believe in excellence and integrity and hope to share this beautiful region with the community. Conditions have improved so much but there is always more to do," Waterman said.
He and his wife expressed their gratitude for all that has been given to the camp, to the children who attend in the summer, and to the staff and volunteers who dedicate their time to a great mission.
Unfortunately, there is something the camp desperately needs. "If there is someone with a side-by-side or a UTV that is no longer needed or wanted, we could really use it. We have a 20-year-old John Deere on its last leg right now and we don't know how long it will last," Waterman said. Other items the camp can always use are first aid supplies for the nurse station and crafting items. For more information, contact the camp directly at (814) 225-3222 or visit their website at www.penueleast.org/
Summer camps are in full swing right now. The 4-H camp has just ended and Camp Penuel Est has three consecutive free summer camps, all sold out, on the schedule. "They fill up fast. If anyone is interested in next year's camps, start checking registrations in early April," Waterman said. All camps offered at Camp Penuel Est are non-denominational, meaning they are not affiliated or associated with any particular church or religious group.
And, there are a few new additions to next year's schedule in the planning stages. "We are going to try day camps for kindergarten and first graders next year and see how it goes. Oh, and we also want to do some teen camps," Waterman said.
He and his wife are not new to the area. They both grew up in Jamestown, NY and more recently spent the last five years in Olean, NY. They knew the former camp directors and when the job came up, the couple knew they had to apply. "We both have experience in the church and we both have experience working with children," Waterman said, referring to himself and his wife. He knowed that was the position for them; her too. They applied and waited – a short time – and then they became the new administrators. "And we haven't slowed down since we started."
For anyone in the area considering Camp Penuel East for their next retreat or special occasion, visit their website, www.penueleast.org/Retreats.html, for the most up-to-date information. Retreats can be all-inclusive, with meals provided by the facility; or, retreats can be custom built to meet the needs of the organization. The Loge du Camp Penuel Est can accommodate up to 100 people for meals and meetings while the Round Chapel accommodates 80 to 100 adults; and the outdoor amphitheater holds 100 and includes a fire pit. Are you looking for accommodation for the night? The dormitory holds 22 people while the cabins can accommodate a maximum of 110 people.
Camp Penuel East, a non-denominational Christian camp for children, was established in 1994 and is located in Eldred. Their mission is to reach the region and also deeper into Pennsylvania, New York, New Jersey and Ohio. It is recognized as a 501© 3 charitable organization making tax deductible gifts and donations.
Camp Penuel was started in Ironton, Missouri in 1973 and is still headquartered there.
Camp Penuel, Camp Penuel East and Camp Penuel Costa Rica (opened in 2003) are governed by a board of directors under the leadership of President Joy Booth.