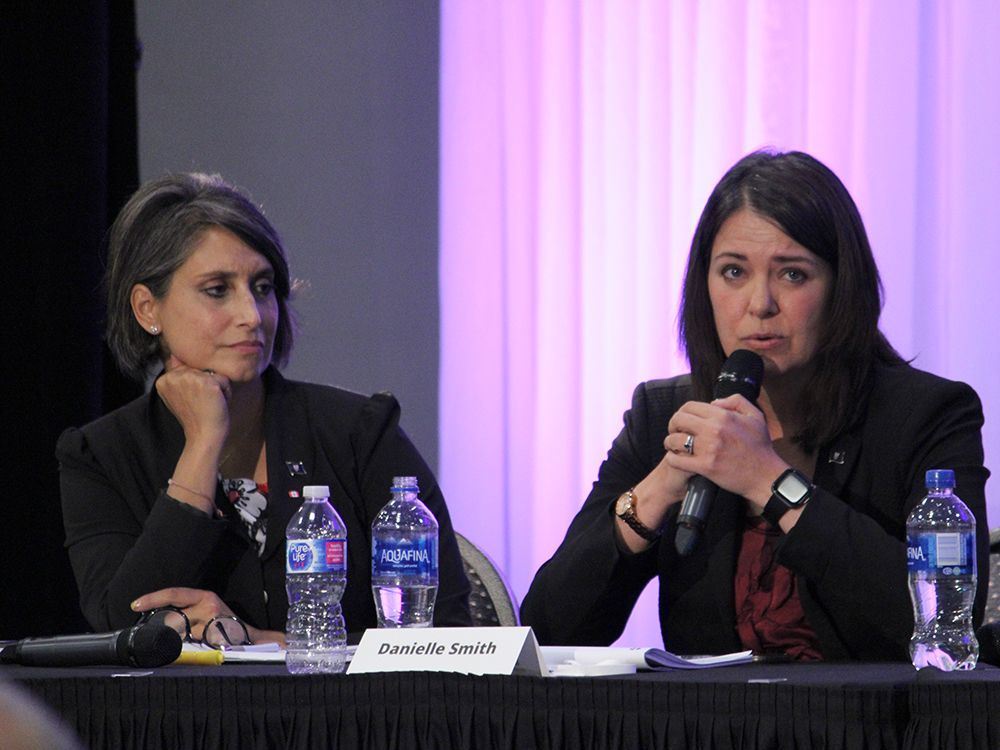 Braid: Ugly confrontation over hint of racism shows tensions between UCP leaders
Ugly exchange at UCP leadership panel this week reveals unraveling anger
Content of the article
An ugly exchange at a panel of UCP leaders this week reveals tempers are fraying as the campaign enters its final stages.
Content of the article
World News Video from the Fort McMurray event shows candidate Leela Aheer, seated right next to Danielle Smith, saying that the "bad people" who control provincial immigration could base admission on race or color.
Content of the article
Furious, Smith accused Aheer of lying about his platform.
Global provided me with a raw video of the exchange. It's amazing.
Aheer asked the audience to imagine "if you have people in charge of our province in charge of who immigrates to this province. . . .
"There's no way I'm going to feel comfortable with our province handling immigration without knowing exactly what the rules are," Aheer said, adding that admission could be based on "the race, color, money".
"A lot of us wouldn't be invited to the province with the wrong people at the helm."
Content of the article
Born in Edmonton, Aheer is of South Indian descent.
Smith's response was bitter and personal.
'We can see why Leela lost her board and probably won't win her nomination,' she said, referring to the long-running fight for control of the Chestermere-Strathmore constituency association. .
"Because she lies about my platform all the time, and calling someone a racist on this platform and someone a separatist on this platform is not acceptable.
"I keep kicking myself, quite frankly."
Danielle Smith releases preview of Alberta sovereignty bill

'Fairy Tales': UCP leadership hopefuls show united front against Smith's Sovereignty Act

Breakenridge: If Poilievre becomes PM, Sovereignty Act fantasy turns into pumpkin
Aheer chimed in, saying "Those aren't jabs." She said her goal "is the Sovereignty Act; it's not about you.
Content of the article
After that, frozen stares all around.
As the competition for candidates intensifies, this time there is no controversy over the party itself or the conduct of the vote.
It was a change from the leadership review that forced Prime Minister Jason Kenney to announce his intention to step down after receiving just 51.4% support on May 18.
Determined to be "transparent", the UCP broadcasts the world's most boring live stream – a 24/7 security camera view the room where the leadership ballots are stored.
This is mostly useful as a sleep aid. Once every few hours, a human can spawn carrying more boxes.
Some people suspect the view is a photo, not a live stream. Someone on Twitter suggested that the UCP put some kittens in the room so we could see something move.
Content of the article
The show will come alive on September 22, when the party begins checking voter ID cards in the hall. This will continue until October 5. On October 6, the votes will be counted and the winner announced.
Many people are still cynical about these UCP votes. This includes some party members, and they have their reasons.
The leadership campaign over Kenney's future has been chaotic.
The rules suddenly changed from voting in person in Red Deer to voting by mail.
Some ballots were mailed to people who had never been members of the UCP. The other legitimate members never got a ballot. In a few cases, the same person received two.
And yet, after all that, Kenney didn't really win. Despite tinkering with the method and date of voting, there was no valid criticism of the handling of the ballots or the counting of votes – a process then overseen by accounting firm Deloitte.
Content of the article
The auditor this time is Crowe MacKay, a small reputable accounting firm with offices in Alberta, British Columbia, Yukon and the Northwest Territories. The party learned from the previous vote, said UCP chair Cynthia Moore.
"We thought we had a solid process when reviewing leadership and we repeat that process when voting by mail. Little has changed. »
Over 123,000 members are eligible to vote. Judging by the stacks of boxes, several thousand have already arrived.
Albertans can be quite confident that this is a fair vote. The real concern is that fewer than 123,000 people will choose a new prime minister – perhaps one who promises immediate and sweeping changes to the policies on which the UCP was elected in 2019.
Danielle Smith's Sovereignty Act is an obvious example. She would enact it immediately with the approval of only a tiny fraction of Alberta voters.
She and others, including Brian Jean, are also promising big changes to Alberta's health services – a pivotal move that the general public has never approved.
The only fair vote on these matters is a general election.
Don Braid's column appears regularly in the Herald
Twitter: @DonBraid