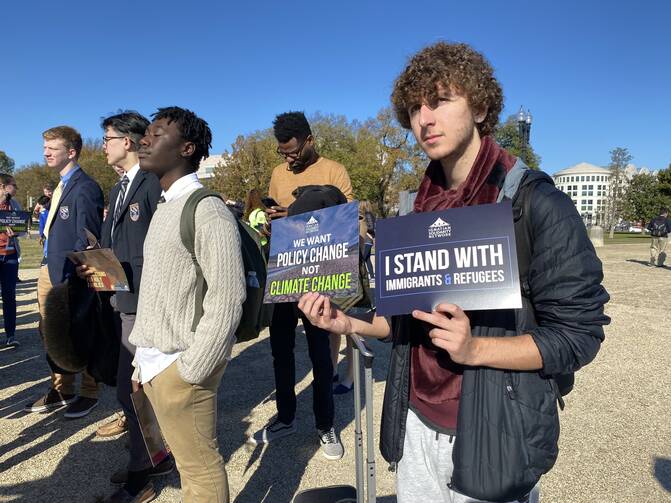 After 25 years, the Ignatian Family Teach-In still invites Jesuit-educated students to respond to the "signs of the times"
This October marks the 25th anniversary of the Ignatian Family Teach-In for Justice, the annual Catholic conference attended by throngs of Jesuit high school and college students from across the country. The weekend-long assembly — a lively (and often crowded) affair distinguished by keynote lectures, exuberant prayer services, political lobbying and panel discussions examining a litany of pressing social topics — brings together a significant coalition of faith-based advocacy groups and honors the memory of six Jesuits and two women killed by the Salvadoran military in 1989.
October 22, America sat down with Teach-In organizer Christopher G. Kerr, executive director of the Ignatian Solidarity Network for 11 years, to discuss the evolution of the conference from a tent outside Fort Benning in Columbus , Georgia, to large-scale rallies in Washington. Mr. Kerr, originally from Ohio, taught elementary school in the Diocese of Cleveland before leading social justice programs at John Carroll Jesuit University, his alma mater, in University Heights, Ohio.
The following transcript of our interview has been edited for style, length, and clarity.
What are the origins of Teach-In and how is the conference linked to the murders of the Jesuits in El Salvador?
The UCA Murders [Central American University run by the Jesuits] were really shocking because members of Congress and the average citizen of the United States believed that we had rectified our bad behavior during the Salvadoran Civil War. Meanwhile, the United States was providing an average of $1 million a day in military funding to the Salvadoran government. In addition, the United States provided training for Salvadoran soldiers in what was then called the School of the Americas, now known as the Western Hemisphere Security Cooperation Institute.
The Teach-In offers a way to engage your faith and examine the reality of the world around us. I think we should be a church that's of the world, not a church trying to separate ourselves from the world.
When the Jesuits were killed, the president of Georgetown University asked Charlie Currie, SJ, who was then a faculty member at Georgetown, to serve as liaison for the Jesuits in the congressional investigation. And Father Currie got in touch with Jim McGovern, who was then on the staff of Representative Joe Moakley, of Boston. At the same time, a man named Bob Holstein, a former Jesuit from the Province of California who had left the Society, had become a prominent labor lawyer in Los Angeles. Of course, the California Province had ties to the Central American Province, so he knew these guys who were killed.
Bob heard that there would be a vigil at the gates of Fort Benning a year after the murders to draw attention to what had happened. And so he went to the wake. In 1995, Bob took part in a civil disobedience action at the gates of Fort Benning. He was arrested, prosecuted and spent three months in federal prison. He was frustrated after his release from prison because he felt there was an irony in the fact that the government had funded the Salvadoran civil war, and so he contacted Charlie Currie and said, 'I want have a Teach-In." In 1997, Bob said, "I'm going to rent a tent and I'm going to pay for it. And that's how Teach-In started – in a tent by the Chattahoochee River. I was at the first Teach-In as an undergraduate student at John Carroll University.
So you're going to college when teach-in starts?
Yes exactly. And this year was beautiful. There were years when it was 40 degrees and rainy, but it kept growing. And the School of the Americas was also doing its own work to try to give a better picture of what was going on, in terms of training. But the reality was that there were really nasty things being taught in those schools. Of course, everything was happening in the middle of the Cold War. There was a lot of tension.
How did Teach-In grow from a meeting in a tent to this very large collection of many different faith groups and publications?
In 2003, about six years after Teach-In began, there was interest in looking at the idea of ​​creating an entity to sustain that energy, that connectivity, year-round. The Jesuit Conference here in DC sponsored a feasibility study, and they interviewed over 100 people from across the country: lay people, Jesuits, people in social ministry and higher education. There was a lot of energy for the idea, but they realized it was not something the Jesuits had the capacity to handle.
The feasibility study proved that this idea would work. Thus, the Ignatian Solidarity Network was founded as a 501(c)(3) non-profit organization, independent of the Society of Jesus, in 2004, and it took over the management of the Teach-In, still in Georgia that year. The Teach-In moved out of the tent and into the Greater Columbus Convention Center because they just couldn't get a big enough tent at the time. There were literally over 4,000 people who came to mass on the Saturday evening before the Sunday vigil at [Fort Benning] doors.
The reality is that there are students who have no historical context for the events of 1989, so we really had to think about how we help younger people understand the legacy of the martyrs.
In 2010, he moved to Washington, DC, so he could tackle a wider range of issues and also use a different strategy to drive change, shifting from direct public action to legislative advocacy on Capitol Hill. It was difficult to make this transition to DC because a lot of people felt like we were moving away from a deep commitment to the [Jesuit] martyrs. But I actually think what we've done is create a broader view of the legacy of the martyrs that is able to engage people on a range of issues.
How does Teach-In make the story of the 1989 murders relevant today for young Jesuit students, especially high school students?
The reality is that not only are there students who have no historical context for the events of 1989, but many of their young teachers and young Jesuits were not even there at the time. So we really had to think about how we help young people understand the legacy of the martyrs. I think sometimes when we hear about the martyrs, we think of the day they were killed. We focus on this event. But we have to look at their work.
The Jesuits who arrived in Central America in the late 1960s were charged with developing a network of universities: one in Nicaragua, one in Guatemala and one in El Salvador. And it would create a space for people to analyze the reality of their country. Jesuits used their academic disciplines as sociologists, psychologists, theologians, and philosophers to help the people of Salvador think deeply about what fuller fulfillment would look like. The Teach-In also provides a space to begin a deep dive into the complexity of issues.
Last week I visited El Salvador. We had worked with a group of artisans who are part of a cooperative in El Salvador to build hand-painted crosses that depict the stories of the martyrs. We will have everyone [at the conference] make a white wooden cross with the name of someone who has been marginalized in some way. It was a tradition at Fort Benning. People were taking part in a fake funeral procession with a cross bearing someone's name, someone like Sister Dorothy Kazel or a two-year-old Salvadoran child who was killed.
We also do a very intensive orientation for new participants to help them understand the story of the martyrs. We invited a partner from Christians for Peace in El Salvador to speak about the life and legacy of the martyrs. I think there are so many things we can still learn from the martyrs today and apply to today's society. And I think the most important thing is that we constantly talked about the importance of reflecting on reality. In a way, it's counter-cultural to think about reality because a lot of our society wants us to live with tunnel vision, to be consumers, to not worry too much about what is happening around us. I think the story of the martyrs invites us to challenge that as people of faith.
How is Teach-In preparing to respond to the next 25 years? Going forward, how does the conference hope to keep the story of the martyrs alive?
It is an arduous task. One of the realities that I think we can recognize is that our church is changing and what it means to be Catholic is changing. We have to take that into account. More than 40 percent of the 1,800 attendees at this year's Teach-In are undergraduates. The Teach-In offers a way to engage your faith and examine the reality of the world around us. I think we should be a church that's of the world, not a church trying to separate ourselves from the world.
What I love about Teach-In is that people bring their own passions, relevant to their own life and region. I hope people leave the Teach-In invited to action. After social analysis, reflection and prayer, we move on to action, and this must be as much internal as external. If we believe that our country should be more welcoming and more humane towards people who migrate here, we must ensure that our own communities are welcoming. If people think we're not taking action on climate change or building a sustainable society, we need to make sure our own communities are environmentally sustainable.
I think Teach-In will always have to evolve. It must respond to the signs of the times. What we are talking about today is not what we will be talking about in 10 years. We may be talking about some of these things, but in different ways.